Since Seto Shuzo brewery was established, we have had a desire of making "honest sake" which is handed down to next generations. Even if times change, its essence of our sake doesn't and will not change. Also we have spent much time and effort brewing sake while observing our excellent traditional manufacturing methods.
Our sake is made with only excellent ingredients of rice, yeast and water by the traditional methods of brewing sake. We have never compromised in brewing sake. All our products ranging from Daignjo-shu to Honjozo-shu are made by the traditional three-step preparation to bring out the gentle sweetness of rice.
Recently Daignjo-shu and Junmai Daiginjo-shu have been getting more attention because of their excellent flagrance. We have put emphasis on how to make solid taste and sweetness because Japanese sake is brewed sake, but not distilled sake.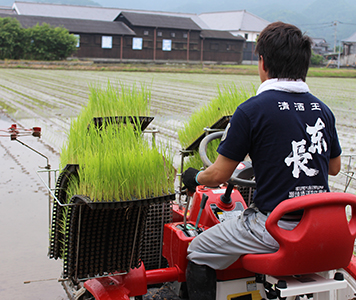 Our sake rice is produced only in Saga. There are several types of Saga rice such as Yamada-nishiki, Sagano-hana, Reihou and so on.
Our sake rice is Yamada-nishiki grown by our staff and contract farmers.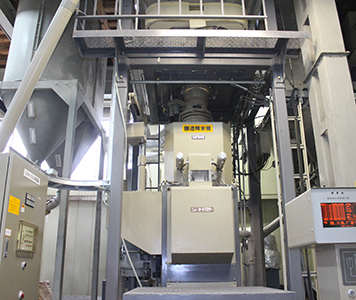 The rice used for sake is polished to remove the bran included with embryo buds, protein and lipid. All the sake rice is polished by us with cooling heat rice polisher. This rice-polishing machine makes it possible to prevent the rice breaking.
About Cool-Heat Rice Polisher
When rice is highly polished, it becomes very hot, and water evaporates. Then the rice breaking inevitably occurs in the process of polishing. This is called invalid cleaning.
For example, if 50% of highly polished rice has 10% of invalid rice cleaning, the rice polishing rate is 60%. Cooling-heat rice polisher is a machine which is used to bring 50% of true rice polishing rate close to 50% of true rice polishing rate.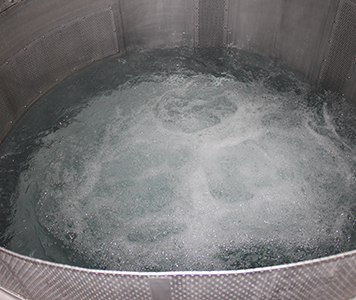 Washing rice by supersonic waves
Polished rice is washed to remove the bran on its surface and soaked enough in water.
Next, the polished rice is cast at a stretch into the water-filled rice washing machine with small air bubbles caused by supersonic waves and washed with water currents. Then the waste water is discharged so quickly that desirable water-soaked rice is made.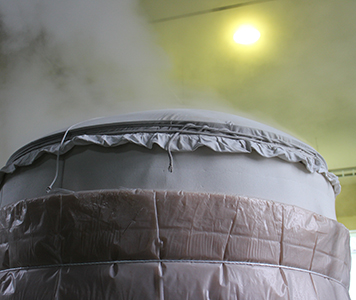 We wash polished rice and soak in water so that it absorbs an appropriate amount of water and steam it with care. As for the ideal steamed rice, the outside is firm and the inside is soft. The steamed rice is cooled down to a specific temperature for brewing.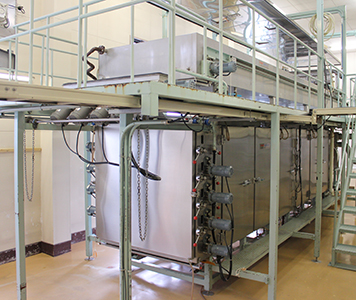 Like we say "First, koji. Second, moto (sake mash). And Third, tsukuri (preparation)", it's very important to produce koji(malted rice) for sake brewing.
Original malted rice is used to prepare a yeast starter, and malted rice for sake brewing is used to prepare Moromi or fermenting mash. Each Moromi is prepared depending on its purpose.
The cooled steamed rice is transported to a special room called koji-muro controlled at 30 degree and sprinkled equally with koji-kin mold. Then over the period of 48 hours, koji-kin mold is cultivated and produced in the koji-muro.
We fully manage the temperature to 0.1 degree with malted rice which is used for various qualities of sake and other usage. By doing so, we can produce high quality sake. Also we are very careful about hygiene management such as washing implements for work and our fingers in order to help koji-kin mold easily and purely propagate.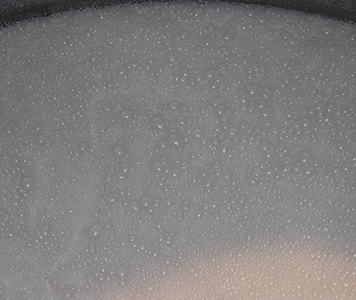 Seishu (Sake) is brewed after steamed rice, koji and water are stirred up for fermentation. In a fermentation tank, the enzyme of koji-kin mold converts rice into sugar and the yeast in turn decomposes the sugar into alcohol and carbon dioxide.
A lot of healthy and lively yeast cells are needed for sake making. So we prepare Moromi or fermenting mash called the yeast starter to cultivate the yeast cells.
After the fermenting mash is prepared, the Moromi will ferment during the period of about 12 days and a lot of excellent yeast cells are born.
We manufacture all yeast starters by a method called Sokuju-moto (faster moto developing method).

When the yeast starter is prepared, we move on to the Moromi or fermenting mash preparation. When making sake, we put koji (malted rice) and steamed rice in a fermenting tank in three steps such as first, second and third step while increasing the quantity of those ingredients step by step.
In general, four-step preparation is the mainstream of modern sake making. It means after three-step preparation, artificial sugar made by the rice bran saccharification device and an enzyme agent is put into the fermenting mash when squeezed out. A lot of raw sake of high alcohol frequency can be made.
However, we stick to three-step preparation to manufacture all kinds of sake ranging from Daiginjo-shu to Honjozo-shu.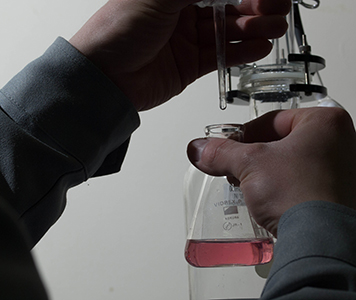 As for the management of fermenting mash, paddling, inspection and analysis are mainly carried out. The purpose of stirring up the fermenting mash is to keep temperature constant in the tank and to create carbon dioxide for the promotion of fermentation.
When paddling in the morning, we take a small sample of the fermenting mash and inspect the alcohol content, SMV (Sake Meter Value), acidity, amino acids and so on to decide on the temperature of the fermenting mash.
We thoroughly manage the temperature of the fermenting mash even to 0.1degree.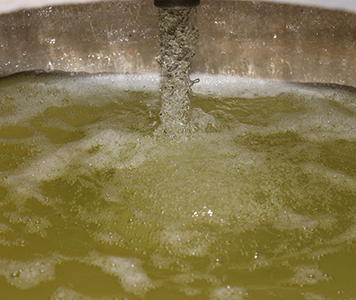 After the fermentation, sake and sake lees are extracted from the solid mixtures through a squeezing process.
We manufacture sake with sweet taste by three-step brewing. Consequently, even Honjozo-shu has over 40% sake lees rate which is the same rate as Daiginjo-shu. 30% of sake lees rate means 100kg rice turns into 30kg sake lees and 70kg sake.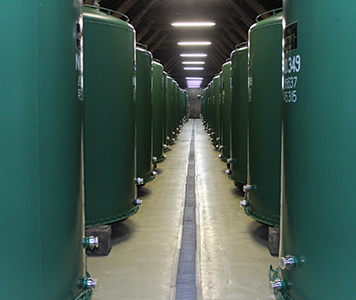 After being pressed, sake is carbon-filtered. Even after that, some enzyme and yeast still remain in the filtered sake so that they will degrade it. Then it should be pasteurized up to the temperature of 65 degree to stop activating yeast and enzyme and to stabilize the quality of sake. This is called pasteurization. After that, the sake is allowed to rest and mature in store house for about half a year.

The sake grows into a good quality product during the maturation process. And, mature sake is bottled and shipped.
Difference of Sake conversion rates between Azumacho's average rates for the past 10 years and the national average rates
* National average value: Excerpt from Sake manufacturing chart in 2013 (Quick estimate)
| Product Name | Category | Sake Lees rate(%) | SCR | Raw Sake Alcohol | RSMV |
| --- | --- | --- | --- | --- | --- |
| Daiginjo Azumacho | Daiginjo | 40.4 | 322.7 | 18.1 | +3.9 |
| National average value | Ginjo | 36.5 | 355.0 | 18.8 | +3.8 |
| Houmon Azumacho | Junmai Ginjo | 40.4 | 334.6 | 17.2 | -6.6 |
| National average value | Junmai Ginjo | 35.9 | 368.0 | 17.5 | +1.7 |
| Keimon Azumacho | Special Junmai | 41.9 | 329.0 | 17.5 | -6.4 |
| National average value | Junmai | 28.3 | 383.0 | 18.1 | +1.5 |
| Junmai Azumacho | Junmai | 31.0 | 358.0 | 17.8 | -4.6 |
| National average value | Junmai | 28.3 | 383.0 | 18.1 | +1.5 |
| Tokusen Azumacho | Honjozo | 48.6 | 268.3 | 18.0 | -12.0 |
| National average value | Honjozo | 28.7 | 369.0 | 19.7 | +3.4 |
| Kinmon Azumacho | Honjozo | 45.0 | 281.9 | 18.4 | -11.0 |
| National average value | Honjozo | 28.7 | 369.0 | 19.7 | +3.4 |
| Maruhei Azumacho | Honjozo | 45.0 | 287.4 | 18.5 | -7.4 |
| National average value | Honjozo | 28.7 | 369.0 | 19.7 | +3.4 |
What's sake lee rate?
It means that the ratio of the weight of sake lees to rice. For example, 30% of sake lees rate means 100kg of rice turn into 30kgs of sake lees and 70kgs of sake. This shows that the higher the sake lees rate, the more excellent the sake becomes.
What is Sake conversion rate (raw materials availability)?
It means acquisition amount of pure alcohol per polished rice 1t. Generally, high quality sake like ginjo-shu is said to have low sake conversion rate.
RSMV: Raw Sake Meter Value