Trade name
SETO SHUZO CO., LTD.
Company Foundation
1920 October 28
Establishment
1789
Capital
10,000,000 yen
Description of Business
Manufacture and sale of Sake "Azumacho", "Shragiku"
CEO
HEIJI SETO
Location
ZIP CODE: 849-1425
3117 Kou, Oazagochouda, Shiota-cho, Ureshino-city, Saga, Japan
TEL 81-0954-66-2014

Shitotacho, (Ureshino city, Saga), hometown of Azumacho located in the upper reaches of Shiota river flowing into Ariake Sea, west of Saga plains, is a quite rural town rich in land clear air and plenty of cool-clear water which is indispensable to making good sake. Since born in this town in 1789, Azumacho has been loved and tasted by the local people for generations up until now.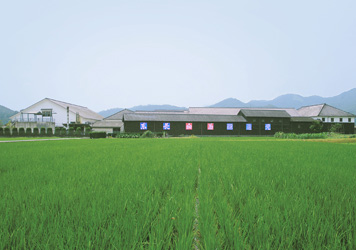 Seto Shuzo (Sake) Brewery Co., Ltd was founded in 1789 by Tajibei Seto, the first founder, who started a business by using a brand name Maruhei Masamune in Shiotacho, Ureshino, Saga. As a result of the acquirement of corporate status in 1920, he begun to sell sake "Azumacho" named by Takashi Hara, Japan's prime minister and president of Seiyukai (political friendship society) in those days. Also, he praised the sake and said, "This sake makes us feel nice and happy mood so it is worthy of praise as King of Sake in honor of its smooth and plump taste."
In 1929, Kaida, chamberlain difference trainer as a proxy for Emperor Showa designated Azumacho as one of Imperial Household Ministry supplies before the war. The sake became the designated product of GHQ after war in November, 1945 and attracted General MacArthur.
Azumacho has been awarded gold medals by the National New Sake Appraising and Deliberating Fair and the Fukuoka Regional Taxation Bureau's Research Institute Brewing.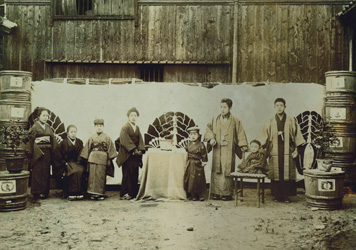 Since the establishment of Seto Shuzo brewery, we have had a desire of making "honest sake", handed down to next generations. Even if time changes, its essence of our sake will not change. We have spent much time and effort brewing sake while observing our excellent traditional manufacturing methods.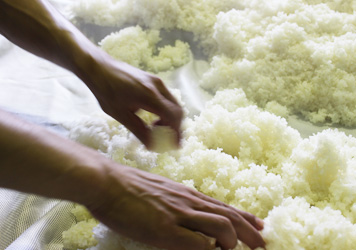 Thank you very much for your special favor with our rice wine-Azumacho. Since 1789, as our company creed "Making honest sake", we have many kinds of traditional sake , such as Daiginjo Azumacho, Ginmon Azumacho (regular sake) and so on with the traditional manufacturing method by using local Saga rice and cool-clear water. Every one of my staff makes and will make every effort to improve the quality of sake and to brew the Japan's best sake.
I would like you to enjoy our excellent sake-Azumacho now and forever.

Heiji Seto
President
Seto Shuzo Brewery Co.ltd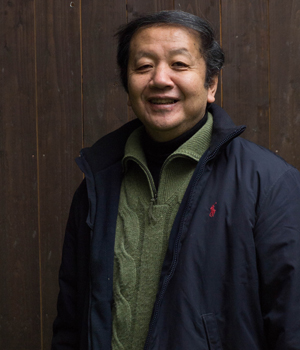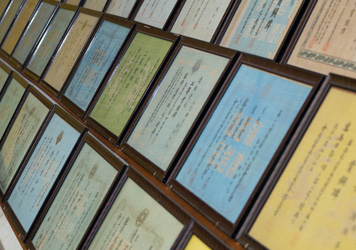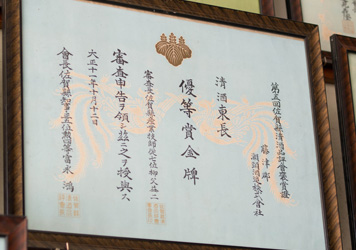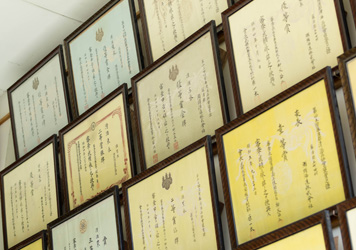 | Year | Class | District of Prize | Content of Award |
| --- | --- | --- | --- |
| 1992, Spring | Ginjo | Fukuoka Regional Taxation Bureau | Honor Prize |
| 1994, Spring | Ginjo | Fukuoka Regional Taxation Bureau | Honor Prize |
| 1994, Autumn | Ginjo | Fukuoka Regional Taxation Bureau | Honor Prize |
| 1995, Spring | Ginjo | Fukuoka Regional Taxation Bureau | Gold Prize |
| 1995, Autumn | Ginjo | Fukuoka Regional Taxation Bureau | Gold Prize |
| 1996, Spring | Ginjo | National New Sake Appraising | Gold Prize |
| 1996, Spring | Ginjo | Fukuoka Regional Taxation Bureau | Gold Prize |
| 1996, Autumn | Ginjo | Fukuoka Regional Taxation Bureau | Gold Prize |
| 1997, Spring | Ginjo | Fukuoka Regional Taxation Bureau | Gold Prize |
| 1997, Autumn | Ginjo | Fukuoka Regional Taxation Bureau | Honor Prize |
| 1998, Spring | Ginjo | National New Sake Appraising | Gold Prize |
| 1998, Spring | Ginjo | Fukuoka Regional Taxation Bureau | Gold Prize |
| 1998, Autumn | Ginjo | Fukuoka Regional Taxation Bureau | Gold Prize |
| 1999, Spring | Ginjo | Fukuoka Regional Taxation Bureau | Gold Prize |
| 1999, Autumn | Ginjo | Fukuoka Regional Taxation Bureau | Honor Prize |
| 2000, Spring | Ginjo | National New Sake Appraising | Gold Prize |
| 2000, Spring | Ginjo | Fukuoka Regional Taxation Bureau | Gold Prize |
| 2000, Spring | Ginjo | Fukuoka Regional Taxation Bureau | Gold Prize |
| 2003, Spring | Ginjo | Fukuoka Regional Taxation Bureau | Gold Prize |
| 2003, Autumn | Ginjo | Fukuoka Regional Taxation Bureau | Gold Prize |
| 2003, Autumn | Junmai | Fukuoka Regional Taxation Bureau | Honor Prize |
| 2004 | Ginjo | Fukuoka Regional Taxation Bureau | Gold Prize |
| 2007 | Ginjo | Fukuoka Regional Taxation Bureau | Gold Prize |
| 2009 | Junmai | Fukuoka Regional Taxation Bureau | Gold Prize |
| 2011 | Junmai | Fukuoka Regional Taxation Bureau | Gold Prize |
| 2013 | Junmai | Fukuoka Regional Taxation Bureau | Gold Prize |
| 2014 | Ginjo | National New Sake Appraising | Gold Prize |
| 2014 | Ginjo | Fukuoka Regional Taxation Bureau | Gold Prize |
| 2015 | Ginjo | National New Sake Appraising | Gold Prize |